Posted on 10/21/2021
LOS ANGELES (Oct. 21, 2021) -- The City of Los Angeles Bureau of Engineering announced today that as part of the City's on-going construction of the $588 million Sixth Street Viaduct Replacement Project, the Bureau of Engineering and its construction partners, Skanska Stacy and Witbeck (SSW), will require two weekend-long, extended full closures of US Rte 101 (101 Freeway) to safely remove bridge falsework under the viaduct. 

FREEWAY CLOSURES:
Weekend One Closure: 
Friday October 22, 2021 at 10 p.m. to Sunday October 24, 2021 at 3 p.m.

Weekend Two Closure: 
November 4, 2021 at 10 p.m. to Sunday November 6, 2021 at 3 p.m.

Reason for Closures
As installation of the cable hangers along the arches over the 101 Freeway has completed, that span is now fully supported and no longer requires the supporting falsework under the bridge. The contractor will remove the falsework.
Location of Closures
The closures will center around the eastside of the viaduct construction site in Boyle Heights, closing a 2.5-mile section of US Rte 101 from the 10/101 split to the 5/10/101 interchange just east of downtown Los Angeles. In addition, motorists travelling west on Rte 60 from the Pomona area will not be able to access US Rte 101.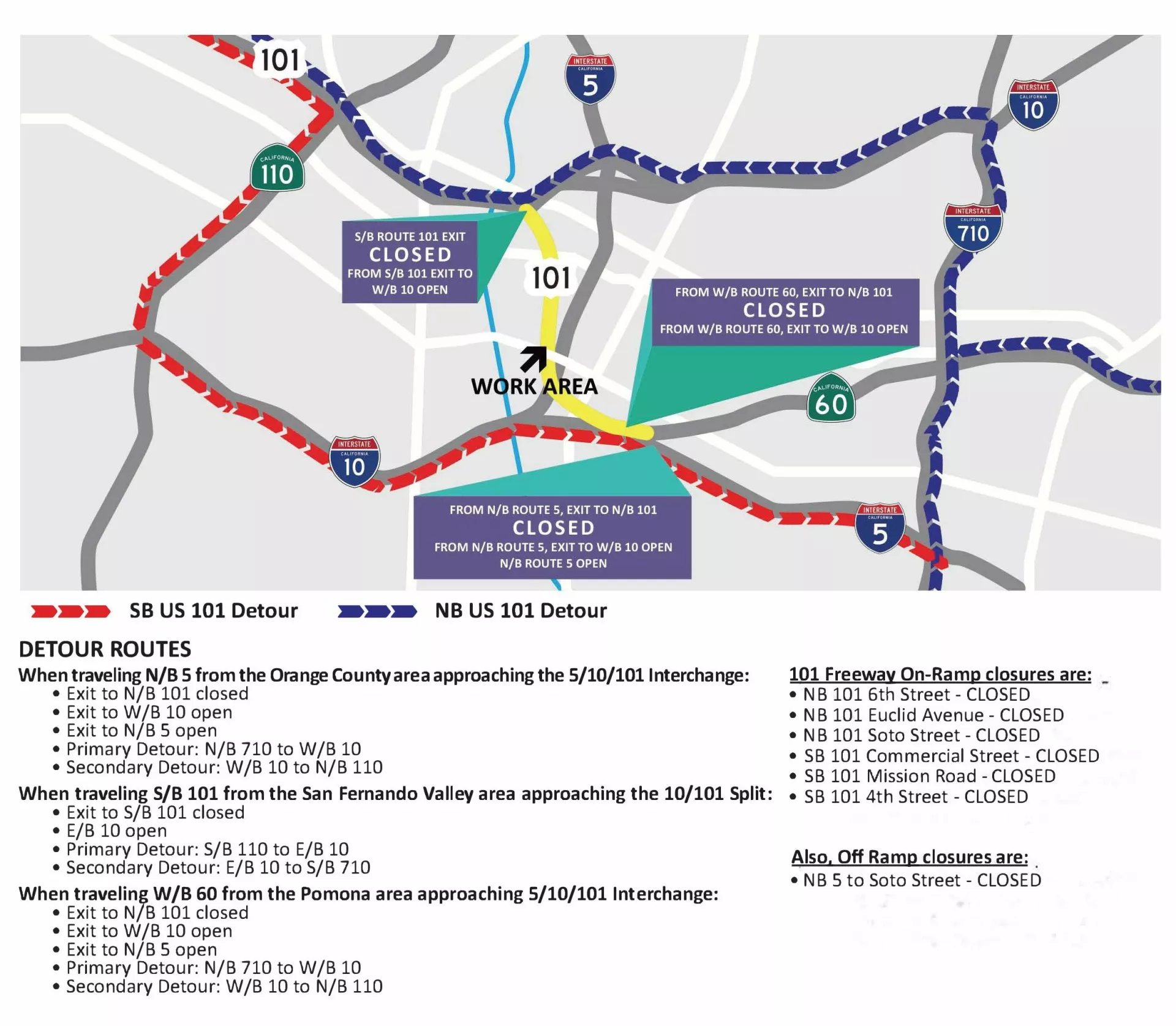 ABOUT THE SIXTH STREET VIADUCT REPLACEMENT PROJECT
The Bureau of Engineering, under the leadership of City Engineer Gary Lee Moore and in partnership with the City's Bureau of Contract Administration, is leading the Sixth Street Viaduct Replacement Project to replace the original, seismically-deficient structure that was built in 1932. The new $588 million viaduct stretches between Boyle Heights and the Arts District and  is the largest bridge project in the history of Los Angeles. It is funded by the Federal Highway Administration and the California Department of Transportation, as well as City funds. Construction is led by contractors Skanska Stacy and Witbeck. The new viaduct is expected to be completed in Summer of 2022.