Posted on 09/16/2021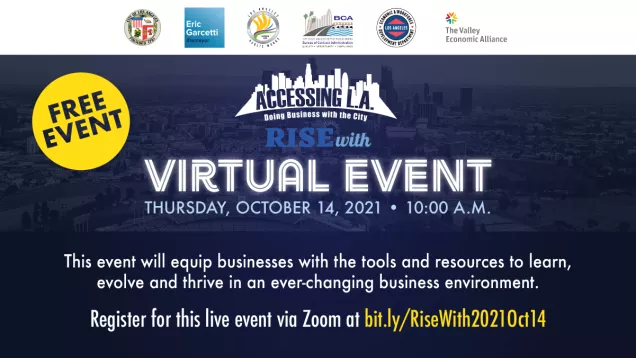 The Board of Public Works and Bureau of Contract Administration, in collaboration with the Mayor's Offices of Budget & Innovation and Economic Development, invite you to participate in the upcoming Accessing L.A. RiseWith Virtual Event. All are welcome to attend this FREE virtual event. Register via Zoom at bit.ly/RiseWith2021Oct14.
This event will focus on the City of Los Angeles' continued efforts to equip businesses with the tools and resources to learn, evolve, and thrive in an ever-changing business environment.  This LIVE virtual networking event is part of the celebration of National Hispanic Heritage Month.
Topics include: City of LA programs and resources, information on best practices and upcoming opportunities, updates on the new Los Angeles Business Assistance Virtual Network platform, new bid preference local business programs, and an overview of the L.A. Optimized Accelerator Academy.
Accessing L.A. is the flagship contracting and business networking event of the City of Los Angeles.  In lieu of the in-person outreach event, virtual events are being held to share information and resources on how to do business with the City.
Visit accessingla.com for more information and view the event flyer at https://bit.ly/2021RiseWithOct14Flyer.