Posted on 05/24/2021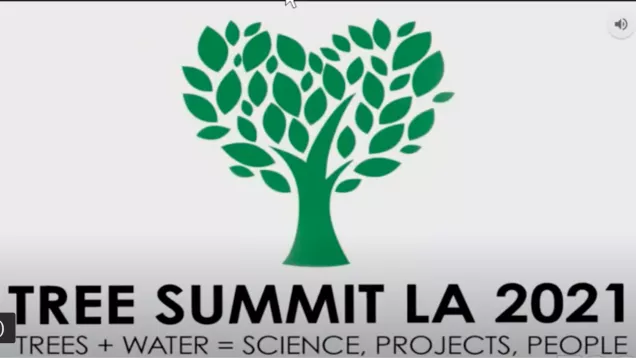 On Friday May 21, LA's City Forest Officer, Rachel Malarich, Councilmembers, a Public Works Commissioner, Streets LA executives and staff, and tree experts met online to examine the relationship between water and LA's urban forest. Mayor Eric Garcetti provided recorded opening remarks reaffirming that shade is an equity issue and highlighting how trees are the centerpiece of our vision for a green and just Los Angeles.
Watch the complete event video on YouTube. 

"Trees breathe new life into our communities ― bringing cooler temperatures, cleaning our air, and making our neighborhoods more beautiful places to lay down roots and raise a family," said Mayor Eric Garcetti. "When we invest in tree planting, we are doing more than adding greenery and shade to our neighborhoods  — we're building a healthier city and strengthening communities hardest hit by the climate crisis."

Rachel Malarich hosted a series of discussions that explored the science behind the need for water to ensure a healthy and vibrant urban forest, projects to capture data on the use of water, and how our communities have been proactive in working with the City family to explore creative solutions for water capture and use, while keeping equity at the forefront. 

"As we get ready to develop our Urban Forest Management Plan, we know that planning for cyclical drought and the impact on trees is critical," said Rachel Malarich, Los Angeles City Forest Officer. "Our investments in the urban forest have to be strategic and based in science, and should result in an equitably distributed, healthy urban forest providing benefits to all Angelenos."

Commissioner Teresa Villegas also provided opening remarks about the importance of trees in water conservation and quality, and emerging opportunities for funding green infrastructure projects, before passing the floor to Adel Hagekhalil,  

"Trees represent critical green infrastructure for our City," said Teresa Villegas, Public Works Commissioner for the City of Los Angeles. "We must embrace the many benefits of trees when we plan for inconsistent rainfall and future dry conditions, which we will experience more and more frequently in the coming years because of climate change."

"What we are doing here, connecting dots, drops, and hearts, we are doing for the future. Our cyclical drought conditions, exacerbated by climate change, urge us to plan and care for our urban forest in ways that will protect our trees and provide greater resiliency to our communities," said Adel Hagekhalil, General Manager and Executive Director of StreetsLA.

This year's online tree summit included keynote speaker Dr. Igor Lacan, who spoke about the science of trees and water. In addition, representatives of USC presented information about the Urban Trees Initiative, a tree equity project for the Eastside of Los Angeles, and Councilmember Paul Koretz, who introduced the Westwood Greenway project, a great example of a community getting involved to help take an urban greening project over the finish line. Councilmember Bob Blumenfield, Chair of the Los Angeles City Council Public Works Committee, provided closing remarks. 

"As we work to protect Angelenos from the ravages of climate breakdown through clean energy business and career development, we must ensure that the City's biodiversity efforts are also regenerative, preventing further loss of species while actively improving ecological integrity across Los Angeles," said Councilmember Paul Koretz. "At our now-annual Tree Summit, we get to celebrate such forward-thinking efforts as the Westwood Greenway, brought into brilliant existence through a strong collaboration between the community, my Council office, and our hard-working City departments. Our mandate for native plants and trees at the Greenway has successfully created a healthy, functioning ecosystem, where our local animals, birds, and insects can thrive together with plants they evolved with and recognize." 

"Growing a healthy urban tree canopy requires many things, but chief among them is a scarce resource, water," said Councilmember Bob Blumenfield, Chair of the Los Angeles City Council Public Works Committee. "It's critical that we push for innovative ways to capture and use water and I'm proud to be a part of this event, highlighting how we're making our city greener and sharing what Angelenos can do to help."

The Tree Summit serves as a reminder for all of us to protect, preserve and plant trees to enhance our urban forest, increase the tree canopy, and be thoughtful in our planning and use of resources in our dynamic urban ecosystem.