Posted on 11/09/2021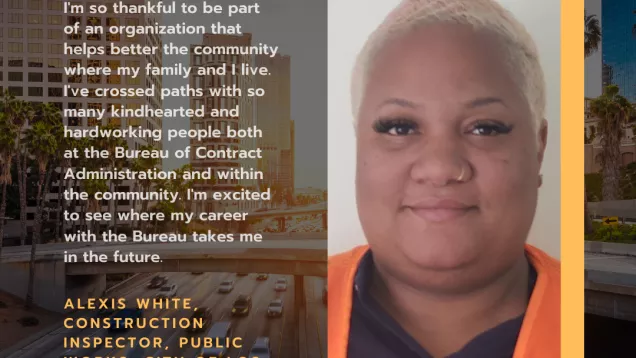 Meet Alexis. She is a Construction Inspector with the Bureau of Contract Administration who previously worked in the healthcare industry. Prior to joining the Public Works family, she worked for Los Angeles County as a probation clerk for two years at Twin Towers Correctional Facility. She was also a nurse staffing clerk at Harbor-UCLA Medical Center. Alexis has worked in health insurance as well. Her experience was mostly with introducing the Affordable Care Act to the American people.
Since joining the City of Los Angeles, Department of Public Works, Bureau of Contract Administration, Alexis has participated in inspecting various permits including A, S, E, and U. She has done inspection work on numerous large projects including Porter Ranch Housing Tracts, sewer and storm drain manhole reconstructions, CLARTS Stormwater and Safety Improvements, Argo Drain Sub-Basin Facility, and most recently Main Street Reconstruction and Improvements and Main Street Lighting Improvements.
Alexis takes great pride in her work and is grateful to be part of an organization that improves the community where she and her family reside.