Posted on 09/15/2021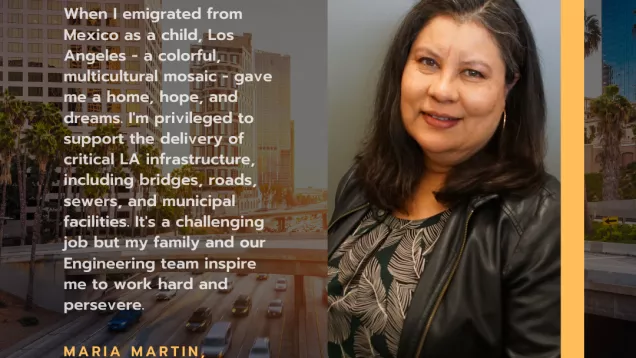 Meet Maria. In 1999, Maria joined the City of Los Angeles Bureau of Engineering after working for three years at a private engineering firm and teaching for five years at the Los Angeles Unified School District. She currently serves the City of Los Angeles as an Environmental Affairs Officer advising on environmental policies. Maria oversees the Environmental Management Group, a highly specialized and eclectic team of professionals who provide environmental documentation and permitting for Engineering's Capital Improvement Program (CIP), as well as assisting other departments including El Pueblo, LA Zoo, Animal Services, Recreation and Parks, Fire, and Transportation.

Maria works with teams that deliver critical infrastructure to the City, such as the Valley Boulevard Grade Separation, the Echo Park Lake Rehabilitation, and the Wilmington Drain, and Machado Lake projects. Among others, she currently supports the Sidewalk Repair and Homeless Facilities Programs to ensure California Environmental Quality Act, Coastal Act, and other environmental compliance. She is a tireless advocate for personal and professional development for the team and values life-long learning, mentorship, and cross-training.