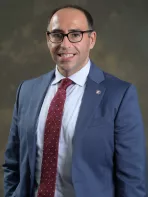 Vahid Khorsand was appointed to the Los Angeles Board of Public Works in March 2022 by Mayor Eric Garcetti. Prior to entering the public sector, Vahid worked alongside his brother as an equities research analyst from 2006 through 2020.
 During his time in the private sector, Vahid sought out opportunities to volunteer his expertise to improve the San Fernando Valley. During those fourteen years, he served on the board of 12 organizations including as President of the Encino Chamber of Commerce, Vice Chair of the United Chambers of Commerce where he is also one of the founders of the Inspirational Women of the San Fernando Valley, and ONEgeneration. 
Civically, Vahid was appointed to the Los Angeles Citywide Planning Commission, serving as Vice President for over two years, to the LA Metro San Fernando Valley Service Council, and to the Citizen Advisory Council of the Van Nuys Airport. 
 The COVID pandemic inspired Vahid to pursue a career change to play a more active role in helping the San Fernando Valley recover from the pandemic. At the end of the 2020 he joined the office of Los Angeles Mayor Eric Garcetti and later in 2021 he joined the office of City Councilmember Bob Blumenfield.
 His leadership has been recognized by several organizations including the San Fernando Valley Young Democrats, Encino Chamber of Commerce, ONEgeneration, California Jaycees, and the San Fernando Valley Business Journal as a Valley 200.
 He has lived in the San Fernando Valley since his family immigrated from Iran in the 1980s. He attended California State University Long Beach for his undergraduate degree and attained his MBA from Pepperdine University.
 When not working, Vahid is known to be a fitness enthusiast, vocal supporter of Angel City FC, and, to the annoyance of some, randomly quoting lyrics.