Posted on 10/14/2021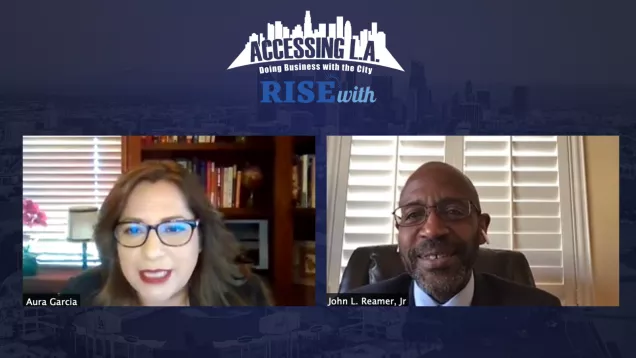 Los Angeles, CA (October 14, 2021) – As part of the National Hispanic Heritage Month celebration, Public Works Vice President Aura Garcia and the Bureau of Contract Administration hosted the Accessing L.A. RiseWith Virtual Event today. Small and diverse business owners and entrepreneurs gathered online to learn about the City's continued efforts to equip businesses with the tools and resources to learn, evolve, and thrive in an ever-changing business environment.
This event was held in partnership with the Mayor's Offices of Budget and Innovation and Economic Development, the Economic & Workforce Development Department, and The Valley Economic Alliance.
"We're thrilled to once again bring resources, information and tangible opportunities to our small and diverse business community through the Accessing L.A. RiseWith virtual event," said Los Angeles Board of Public Works Vice President Aura Garcia. "While many businesses have had to pivot to survive during the pandemic, this year's program focused on sharing information and tools to help businesses adapt to emerging technologies and stay prepared for current and future contracting opportunities."
During the virtual event, the Mayor's Office of Budget and Innovation's Procurement Team presented new updates on the revamped Los Angeles Business Assistance Virtual Network (LABAVN) platform. The Bureau of Contract Administration shared recent changes to the City's Local Business Preference Program for Los Angeles County businesses that could be eligible for a contracting preference for local and local small businesses as well as business entities working with the hardest-to-employ populations. 
The event also featured a panel of City agencies, including the Bureau of Engineering, General Services Department and Los Angeles Department of Water and Power, who shared information on upcoming contracting opportunities. This session was intended to highlight the many tangible opportunities that exist for businesses interested in contracting with the City of Los Angeles. 
"In the midst of another challenging year, we are grateful for the opportunity to virtually bring together our business community and connect them to contracting opportunities in the City of Los Angeles," said John L. Reamer, Jr., Inspector of Public Works and Director of the Bureau of Contract Administration. "Our goal remains to make public procurement more equitable and to ensure that small and diverse businesses are given the full opportunity to compete for public contracts, grow, and thrive." 
Virtual attendees had the option of choosing between two breakout room sessions depending on the topic most of interest to them. One breakout room featured a deep dive into new and existing services being provided by the Economic and Workforce Development Department's BusinessSource Centers including access to capital workshops, small business loans information and grant opportunities. Simultaneously, the second breakout room featured an informational session and introduction to the City's L.A. Optimized Accelerator Academy focused on growing and marketing small businesses in the digital marketplace. This presentation was made by this year's Entrepreneur-in-Residence Roberto Martinez, Founder & CEO of Braven Agency, a company that aims to bridge the digital divide for small businesses. Roberto is also Google's Digital Coach for the Los Angeles area.
The successful and growing Accessing L.A. Expo – the City's premier flagship networking program – was designed to promote the City's vision of fostering the inclusion and economic development of all Los Angeles residents and businesses. 
To view a recording of the event, go to www.accessingla.com. For more information on the Bureau of Contract Administration, visit https://bca.lacity.org/.