Posted on 02/01/2023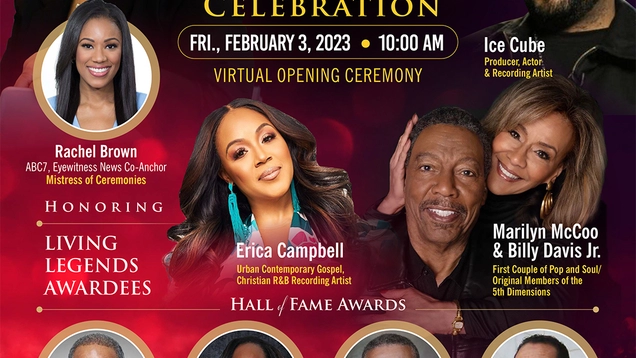 Board of Public Works Commissioner Mike Davis, the Our Authors Study Club and other City officials will honor Living Legends at this year's City of Los Angeles African American Heritage Month virtual celebration. The honorees include producer, actor and recording artist Ice Cube, urban contemporary gospel and Christian R&B recording artist Erica Campbell, and R&B recording artists Marilyn McCoo & Billy Davis Jr.

The City Council program will also feature the induction of four Hall of Fame recipients who have gained national acclaim in the fields of Law, Labor, Higher Education and Government.
Honorable Eric Holder (ret.), Former U.S. Attorney General
Yvonne Wheeler, President, Los Angeles County Federation of Labor
Dr. David Carlisle, President/CEO, Charles Drew University of Medicine and Science
Honorable Herb Wesson (ret.), First African American Los Angeles City Council President
African American Heritage Month Opening Ceremonies
https://www.zoomgov.com/j/1606977246

Other City of Los Angeles African American Heritage Month activities:

African American Heritage Month Round Table Discussion
"Black Resistance"
Thursday, February 2nd 2023 6:30 pm - 8:30 pm
https://www.zoomgov.com/j/1605753317
Meeting ID: 160 575 3317
Passcode: 363409

Featuring: 
Marc Brown, Co-Anchor, ABC7 Eyewitness News
Dr. Maulana Karenga, Chair and Professor, Africana Studies, CSULB
Dr. Julianne Malveaux, Dean, College of Ethnic Studies, CSULA
Dr. Donna Nicole, Chair, Africana Studies, CSDH
Dr. Boris Ricks, Director, Center for Southern California Studies, CSUN
Dr. Francille Rusan Wilson, American, Women and Gender Studies, USC

Black History Month Worship Service
Sunday, February 12th, 2023 10:00 am - 12:00 pm
2270 Harvard Boulevard, Los Angeles, California.  
Link to service from: famechurchla.org

An Evening With African American Authors
February 21, 2023 6:00 pm
https://www.zoomgov.com/j/1604351180
Meeting ID: 160 435 1180
Passcode: 344541

Featuring:
Devyn Bakewell, "Greater Life"
Aaron Philip Clark, "Under Color of Law"
Kellye Garrett, "Like a Sister"
Kevin Powell, "Grocery Shopping with my Mother"
Tamika Mallory, "State of Emergency"

Build with Construction Matchmaking
Construction Networking Expo
"Building Inclusion for All"

Part 1: Webinar
Thursday, February 23rd, 2023
Register on Zoom
Get a first look at new contracting opportunities coming to the City of Los Angeles 
Have the opportunity to fulfill the Prime's subcontracting needs through one on one prescreened matchmaking sessions. 
Best Practices and Pitfalls to avoid as a Prime Contractor
Discussion on what primes look for in a subcontractor
Part 2: In-person Business to Business Matchmaking Event
Thursday, March 2nd 2023
B2B Matchmaking is pre-assigned matchmaking opportunities for prime contractors ("Prime") and subcontractors. We will compare the NAICS industry codes the Primes are looking for to the NAICS codes  that the Subcontractor company provides subcontracting for, in order to get the best match for all parties. You will have approximately 10 minutes with each Prime that you are "matched with."  In order to register, please fill out the appropriate form for your company:
For more information, visit accessingla.org

African American Heritage Month Closing Ceremonies
February 23, 2023 6:00 pm
https://www.zoomgov.com/j/1612482429