Posted on 12/01/2021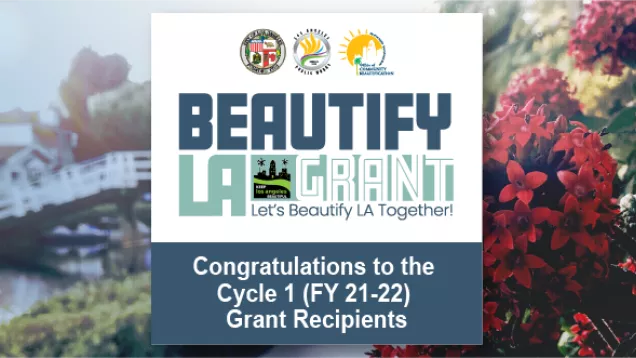 Board of Public Works Approves Grant Funding for 14 Community Beautification Projects Led by Local Community Groups
The Beautify LA Grant Program Supports L.A. Neighborhood Beautification Initiatives
LOS ANGELES, CA (December 1, 2021) – The Board of Public Works unanimously approved the recommendations of the Office of Community Beautification (OCB) and Keep Los Angeles Beautiful (KLAB) to award funding for 14 neighborhood beautification projects as part of the Beautify LA Grant program. This grant program was created to support the efforts of community-based groups to beautify public spaces throughout Los Angeles.
"We are committed to enhancing the quality of life for Angelenos. The Beautify LA Grant program is an opportunity to ask community groups to join us in our mission of beautifying and improving our neighborhoods," said Board of Public Works Vice President and KLAB Chair Aura Garcia. "Our call to action was met with an exciting response. I look forward to seeing our communities enjoy the completed projects and continuing this program in the future."
Pending final permit approvals on select projects, matching grants in the amount of $2,500 each will be awarded to the following finalists:
Footbridge Square Laurel Canyon/Valleyheart Media

(CD2) submitted by Footbridge Square Neighborhood Watch – landscaping project

Beautifying the L.A. River Bike Path Along the Headwaters

(CD3) submitted by L.A. River Walkers and Watchers – landscaping project

Valerio Street Pocket Park

(CD3) submitted by Reseda Neighborhood Council – landscaping project

Bronson Canyon Traffic Circle Landscaping

(CD4) submitted by The Oaks and Bronson Canyon Improvement Fund – landscaping project

Rosewood Gardens Mural Project

(CD5) submitted by Mid-City West Neighborhood Council – mural project

Let's Beautify North Hills

(CD7) submitted by North Valley Caring Services – landscaping project

Chesterfield Square Mural Project

(CD8) submitted by Chesterfield Square Community Block Club – mural project

Washington Transit Corridor Beautification

(CD10) submitted by Mid-City Neighborhood Council – artistic banners project

Porter Ranch Beautification Project

(CD12) submitted by Porter Ranch Neighborhood Council – park landscaping project

Beautify Thai Town

(CD13) submitted by Thai Community Development Center – installing cultural plaques

OWN Community Garden Shed Construction

(CD13) submitted by One World One Nation – building community garden shed

L.A. River Stewardship Memorial

(CD13) submitted by Atwater Village Neighborhood Council – landscaping project and bronze memorial plaque installation

Amazing Gardens & Campus Beautification at Delevan Drive Elementary

(CD14) submitted by Delevan Drive Elementary School – community garden project

Watts Imperial Courts Unity Garden

(CD15) submitted by GreenSpacesLA – landscaping project
A total of 52 applications were received during the first round of the grant program. Following an evaluation of initial project ideas, 26 applicants were invited to the proposal round with 19 groups submitting full proposals resulting in the selection of 14 project finalists. The KLAB Advisory Committee was responsible for evaluating proposals during the application and proposal rounds. Finalists were determined following an evaluation and scoring process that took into consideration proposal criteria, geographical location (additional points were given to projects by and within disenfranchised and low-income communities), and the City's needs and priorities. Grant funding is limited and was awarded on a competitive basis.
"Through the Beautify LA Grant, we connected with many local groups and have shared resources with all applicants to help move their project ideas forward. We hope this encourages even more people to improve their communities," said Paul Racs, Director for the Office of Community Beautification. "Special thanks to our volunteer-based KLAB Advisory Committee for their diligence in evaluating grant proposals and narrowing down the list to projects that align with the City's needs at this time."
The Beautify LA Grant program is intended to engage, educate, and empower individuals to take personal action to improve their neighborhoods, foster new partnerships and build community pride. Finalists are required to match a minimum of 25% of the grant amount through contributions including outside funds, discounts or donations of professional services or materials and supplies, and general volunteer time.
The Beautify LA Grant program will launch its second cycle in 2022. Visit www.laocb.org to stay updated on the upcoming grant application timeline.