Posted on 03/06/2023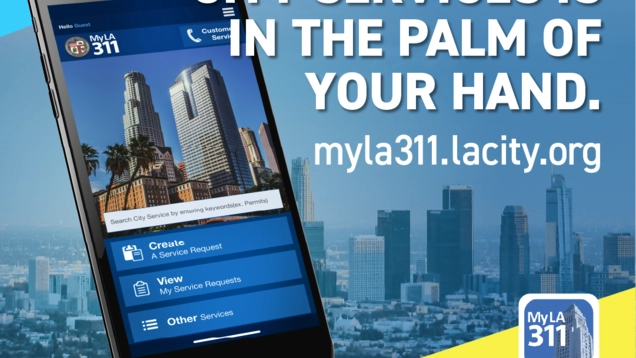 LOS ANGELES, CA (March 6, 2023) – To celebrate National 311 Day which takes place on Saturday, March 11, the City of Los Angeles, led by the Board of Public Works and Information Technology Agency, will promote city services during the week of March 6-10 in an effort to bring attention to the various ways Angelenos can make service requests.

The City's 311 Call Center opened in 2002 and today receives between 1.2 and 1.4 million calls each year, while the MyLA311 app is celebrating its 10 year anniversary this year and accounts for about 35% of all service requests.

"Our 311 system has been helping connect Angelenos to vital city services for more than 20 years," said Mayor Karen Bass. "I want to thank everyone who has worked tirelessly to improve the 311 system and implement innovative solutions to the top issues city residents face. Thank you also to the Angelenos who call 311 and use the app to let us know how we can best be of service. Together, we will continue to improve our city."

During the week leading up to March 11 (March 6-10), the City will use traditional and social media, videos broadcast on the City's Channel 35 and e-blasts to constituents to spotlight highly requested services and the ease with which Angelenos can use 311 or MyLA311 to request such services. As part of the week,City Council offices have been invited to participate in a friendly challenge to generate the highest percentage increase in service requests.

● Monday, March 6 – Graffiti removal
● Tuesday, March 7 – Bulky Item pickup
● Wednesday, March 8 – Pothole repair
● Thursday, March 9 – Broken street lights
● Friday, March 10 – Street Sweeping schedules

"This is a great opportunity to remind Angelenos about this easy, free service the City provides to its residents and business owners," said Board of Public Works Commissioner Vahid Khorsand. "Through the call center and app, everyone is being empowered to participate in the City's efforts to improve the quality of life here."

"Potholes? Graffiti? Abandoned furniture on the curb? The MyLA311 mobile app has 64 no-cost LA City services available in the palm of your hand. Check it out on Apple or Android!" said Ted Ross, General Manager of the City's ITA department.

To make a service request, residents can contact the City's 311 Call Center, Monday through Friday from 7:00 a.m. to 7:00 p.m. and on weekends from 8:00 a.m. to 4:45 p.m., through the 311 website at https://myla311.lacity.org or via the MyLA311 app, which can be downloaded from the link above.