Posted on 11/15/2021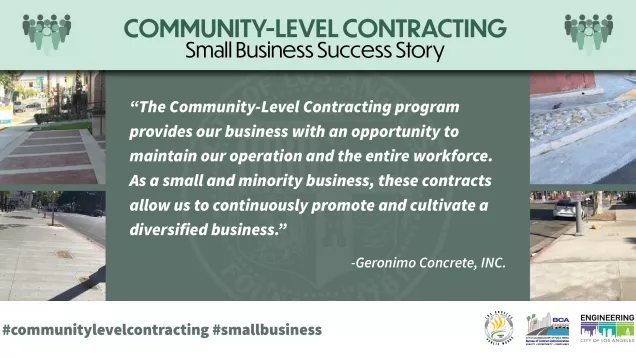 In a new social media series, we'll be spotlighting the successes of our Community-Level Contracting (CLC) program and the huge impact it's making on the local small business community. CLC is the practice of unbundling large contracts into workable packages to provide small businesses an opportunity to do business directly with the City of Los Angeles as prime contractors. Our first post features Geronimo Concrete, Inc. - a certified Minority Business Enterprise and Women Business Enterprise. As part of the CLC initiative, this business has been awarded contracts for the Bureau of Engineering's Small Sidewalk Repair Program. This has resulted in 20 new hires for the company.
Geronimo Concrete, Inc. shares their experience: "The CLC program provides our business with an opportunity to maintain our operation and the entire workforce. This opportunity is extremely valuable to our business, especially throughout the pandemic. We were able to keep the workforce without any reduction or layoff. In addition, it allows us to hire more manpower with the assistance of the local union. As a small and minority business, the contracts allow us to continuously promote and cultivate a diversified business. With the recent award of the Sidewalk Package 54, we have gained the experience that could strengthen our business portfolios for larger projects in the future."
Special thanks to the Bureau of Engineering's Sidewalk Division for implementing this Community-Level Contracting opportunity and making it available to our small business community.