Posted on 05/24/2022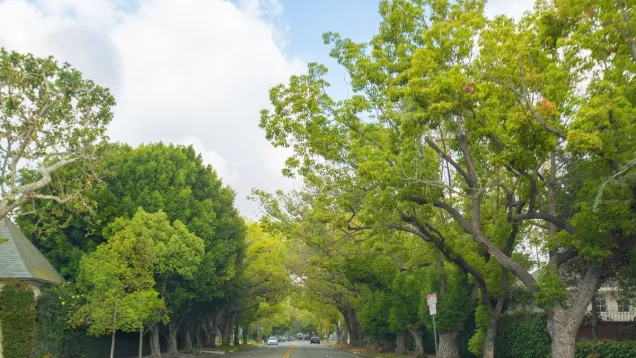 As the summer approaches and the weather gets warmer, how do we preserve our trees? Trees grow in response to the conditions they are living in, so changes in watering, like those in our new water restrictions, can have an impact on a tree's health. The good thing is that it is not impossible to keep our trees healthy during a dry season.
 
The trees throughout Los Angeles serve as a long-term infrastructure investment that will appreciate over time and provide an extensive range of benefits for Angelenos' quality of life and health, which is why it is crucial to understand how to care for them during a drought with the current water restrictions.
 
"Even here in Los Angeles, one of the true conservation capitals of the world, we need to continue to take advantage of the tools at our disposal that will help us get through drought," said Mayor Eric Garcetti. "We need to conserve now more than ever, and watering our trees is a critical part of our work to become a more sustainable and drought resilient state."

"Trees provide so many benefits for the quality of life and our environment," said Board of Public Works President Aura Garcia. "But as we go through this period to reduce water usage through various ways, we want to share this important information for residents to help maintain and preserve trees in their yards, while conserving water."
 
"There are some basic and simple steps we can take to ensure our trees stay healthy while we conserve water," said City Forest Officer Rachel Malarich. "We've invested in planting and caring for these trees, and a little water and care go a long way to ensuring we get to continue to experience the benefits they provide for years to come."
 
Here are a few tips for preserving our mature trees during the summer with the current water restrictions:
 
Watering: Slow soak your mature trees once a month, especially important during June, July, August, and September. It is especially important to keep an eye on trees that were accustomed to receiving supplemental water from your landscaping or lawn that have now been reduced with the water restrictions.
Avoid Pruning and Fertilizer: Delay pruning your trees during the upcoming hot, dry months unless you have a specific safety concern, and do not add fertilizers that encourage tree growth; instead, DO add mulch under your tree.
Trees remain an essential resource to the City of Los Angeles and play a massive role in the city's effort to protect communities from the impacts of climate change. Please refer to these resources for additional information on how to preserve our trees: