Posted on 08/23/2022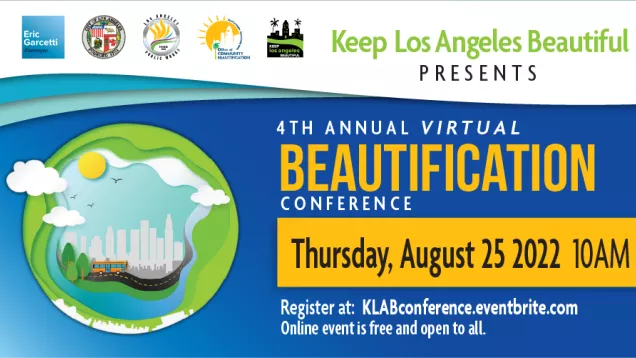 The City of Los Angeles Board of Public Works, Office of Community Beautification (OCB) and Keep Los Angeles Beautiful (KLAB) will host the 4th  Annual Virtual Beautification Conference on Thursday, August 25, 2022.
This free, virtual conference will convene a wide range of stakeholders with a shared vision of a cleaner, greener and more sustainable Los Angeles. All are invited to gather online to learn more about local programs and resources, sustainability initiatives, and beautification projects. Panel discussions will focus on key topics including recycling and reuse, water conservation, and community beautification projects.
The conference will feature speakers including Mayor Eric Garcetti, Board of Public Works President Aura Garcia, City Forest Officer Rachel Malarich, and more.
Register using the following URL to receive the event link: https://KLABconference.eventbrite.com.
For more information, please call (213) 978-0227 or email bpw.communitybeautification@lacity.org.