Posted on 03/17/2022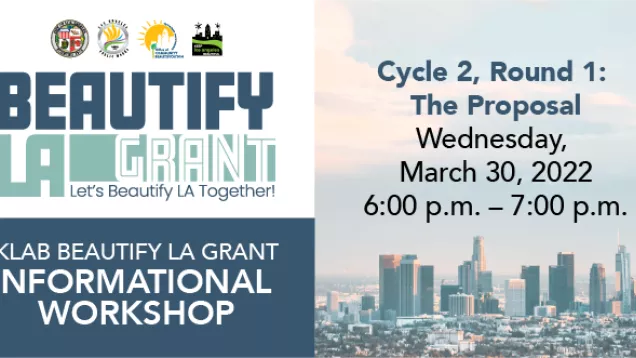 Matching Grants Support Neighborhood Beautification Initiatives
Virtual Grant Workshop to be Held on March 30th, Proposal Period Opens April 4th
LOS ANGELES, CA (March 17, 2022) – The City of Los Angeles Office of Community Beautification (OCB) and Keep Los Angeles Beautiful (KLAB), an affiliate of Keep America Beautiful – the nation's leading community improvement nonprofit organization, today announced that the second cycle of the Beautify LA Grant will begin accepting proposals on Monday, April 4, 2022.
"We're thrilled to bring back the Beautify LA Grant to give more local community groups the opportunity to make an impactful difference in their own backyard, especially in areas of high need," said Los Angeles Board of Public Works President and KLAB Chair Aura Garcia. "Our goal remains to build community identity and pride in our public spaces through beautification projects across the City of Los Angeles."
The grant program supports the efforts of community-based organizations to beautify public spaces throughout the City of Los Angeles and empower individuals to take personal action to improve their neighborhoods. Community groups such as Neighborhood Councils, business improvement districts, beautification committees, and others are invited to submit a proposal. OCB will hold a virtual workshop via Google Meet for interested applicants to get more information on Wednesday, March 30th at 6 p.m.
KLAB will once again award matching grants of up to $2,500 to help fund projects that benefit and revitalize communities in the City of Los Angeles. Organizations will be required to match a minimum of 25% of the grant amount through contributions including outside funds, discounts or donations of professional services or materials and supplies, and general volunteer time. The Beautify LA Grant is intended to foster new partnerships, build community pride and beautify neighborhoods.     
"Our goal continues to be creating a Los Angeles that is as beautiful as possible in partnership with volunteers, residents and community organizations. Continuing with another cycle of the Beautify LA Grant helps us move closer to reaching that end," said Office of Community Beautification Director Paul Racs. "We look forward to engaging even more community members and organizations to bring our resources together and clean, beautify, and maintain our neighborhoods."
Last December, OCB and KLAB awarded funding to 14 neighborhood beautification projects as part of Cycle 1 of the Beautify LA Grant program. Projects ranged from landscaping improvements and community gardens to artistic murals and banners.
The proposal packet and submission guidelines can be downloaded at www.laocb.org. The proposal period for Cycle 2 of the Beautify LA Grant program opens on Monday, April 4, 2022, and the deadline to submit a proposal is Friday, May 6, 2022.
Beautify LA Grant Informational Workshop
When: Wednesday, March 30, 2022, from 6 p.m. to 7 p.m.
Where: Google Meet: https://meet.google.com/htg-wtco-bgf
Or dial: ‪(US) +1 832-775-8470 PIN: ‪593 896 803#