Posted on 05/19/2021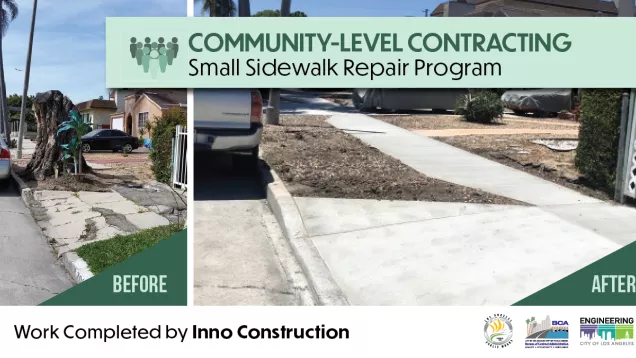 City of Los Angeles Announces Community-Level Contracting Program to Further Promote Equity and Create Opportunity for Small Businesses
Upcoming Opportunities and Program Successes Celebrated During National Public Works Week
Los Angeles, CA (May 19, 2021) – The Board of Public Works unanimously approved a motion today to officially establish the Bureau of Contract Administration's Community-Level Contracting program created in collaboration with the Mayor's Office of Budget and Innovation's Chief Procurement Officer. This initiative aligns with many Executive Directives (EDs) signed by Mayor Eric Garcetti over the course of his administration focused on business inclusion and equity, including the recent, ED 27, to promote racial equity in City government, procurement and contracting. Community-Level Contracting aims to provide small and diverse businesses with more accessible opportunities to compete for and share in the billions of dollars allocated for public procurement in the City of Los Angeles.
Shannon Hoppes, the City's Chief Procurement Officer states, "Community-level contracting is a core component of how the City of Los Angeles is elevating and investing into our small, local, and diverse business communities. I applaud Commissioner Caloza, Davis, and the Bureau of Contract Administration for their leadership and commitment to diversity and equity in contracting, and I look forward to the expansion of this program into other areas of procurement throughout the City."  
Through Community-Level Contracting, large contracts will be unbundled into smaller, more manageable work packages of approximately $100,000 or less to provide small businesses an opportunity to do business directly with the City as prime contractors. Many of these small businesses also qualify for the City's certification program which is offered to minority, women, disabled veteran, LGBTQ and disadvantaged business enterprises. This program will transform the way that the City works with emerging businesses and help make economic opportunity more widely available for everyone as the economy recovers from the impacts of the COVID-19 pandemic.
"Community-Level Contracting is one of the many ways that the City of Los Angeles continues to invest in small and diverse businesses and ensures that economic justice is embedded into our economic recovery," said Dr. Mike Davis, President Pro Tempore, Board of Public Works Commission. "I'm proud of the leadership shown by the Bureau of Contract Administration and the Chief Procurement Officer in their efforts in moving this initiative forward to offer opportunity and hope, even in these uncertain times." 
"Small businesses are the heartbeat of our economy, and we must move with urgency to implement programs such as Community-Level Contracting to create real and accessible opportunities for everyone trying to navigate the road to economic recovery," said Commissioner Jessica Caloza, Board of Public Works Commission. "This Citywide initiative will introduce small businesses to the public procurement process, provide training and guidance to grow their businesses and help build a more equitable economy for all."
Spearheaded by the Department of Public Works, the goal is to continue engaging other public departments and agencies on identifying contracting opportunities that can be unbundled into smaller, more manageable contracts. For small businesses, successfully completing a contract with the City is a gamechanger and can open doors to doing business with other public agencies. New contractors will begin to build relationships directly with the City of Los Angeles and gain the experience that will grow their business, allow them to bid on larger projects in the future, and open the door to opportunities with other public agencies.
The Bureau of Contract Administration has already partnered with the Bureau of Engineering on its Small Sidewalk Repair Program, resulting in the creation of a list of 35 qualified contractors for the Pre-Qualified On-Call (PQOC) Small Sidewalk Contractors List. Two-thirds (67%) of the contractors on the PQOC were first time bidders with the Department of Public Works and many hold certifications as small, minority, women, or disabled veteran-owned businesses. To date, 26 work packages have been awarded totaling $1,843,483. 
"We remain committed to delivering programs and services that our local small business community needs to ensure a more fair and equitable procurement process," said John L. Reamer, Jr., Inspector of Public Works and Director of the Bureau of Contract Administration. "Community-Level Contracting is one of those programs that we believe will help small businesses regain their footing, gain more experience and guide them back on the path to prosperity."
The motion (BPW-2021-0325) passed today by the Board of Public Works calls upon the Department's Bureaus and offices to conduct an evaluation on their contracting opportunities to determine if it is an appropriate candidate as a Community-Level Contracting opportunity and report its findings. It also calls for the Bureau of Contract Administration to provide guidance to assist the Bureaus in creating implementation strategies, plans, and evaluation methodologies for Community-Level Contracting. 
Additional contracts that have been executed under the Community-Level Contracting initiative include:
Bureau of Engineering (BOE)

: RFQ Solar PV And Energy Storage Design-build Contractors for Municipal Facilities

LA Sanitation and Environment (LASAN)

: Request for Proposal for Performing Landscape and Site Services

Bureau of Street Lighting (LA Lights)

: RFQ Pre-Qualified On-Call Bus Stop Lighting Contractors List
Community-Level Contracting is just the latest step the City of Los Angeles has taken to support L.A.'s small business owners. As the program progresses, the Bureau of Contract Administration will gather metrics to learn more about how to best unbundle contracts in the future and to continue demonstrating the need and effectiveness of this initiative.
To learn more about Community-Level Contracting, join us today for the Accessing L.A. TeamWith 2-Part Virtual Event:
Prime Perspective on Contracting with the City of LA & Community-Level Contracting
Wednesday, May 19, 2021 from 1:00 p.m. - 2:00 p.m.
Register here: http://bit.ly/TeamWithMay192021
Interactive Networking Opportunity & Koi Pond
Thursday, May 20, 2021 from 1:00 p.m. - 2:30 p.m.
Register here: http://bit.ly/TeamWithMay20Networking