Posted on 03/07/2022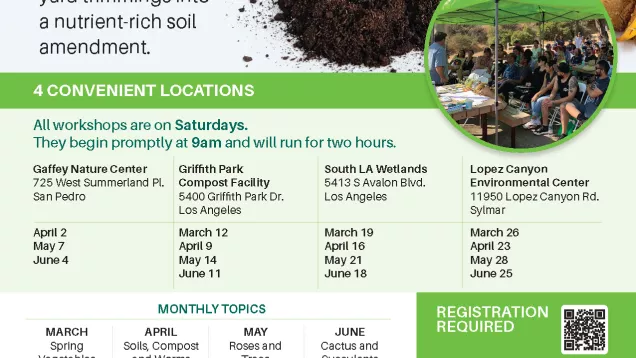 The first half of each workshop will teach you how to turn kitchen scraps and yard trimmings into a nutrient-rich soil amendment. Home composting is taught by a team of ten rotating LA Sanitation & Environment green waste specialists. The second half of the workshop will focus on the following monthly urban gardening topics taught by Scott Henley and Steve List:
 
March: spring vegetables
April: soils, compost, and worms
May: roses and trees
June: cactus and succulents
 
Dates and Locations

The following locations offer workshops from 9am to 11am. Please click each link for a map and directions. You can also download the flyer in English and Spanish.
 
GAFFEY NATURE CENTER - 725 West Summerland Place
1st Saturday of each month from 9-11am
Click here to register

GRIFFITH PARK COMPOSTING FACILITY - 5400 Griffith Park Drive
2nd Saturday of each month from 9-11am
Click here to register

LOPEZ CANYON ENVIRONMENTAL EDUCATION CENTER - 11950 Lopez Canyon Road
3rd Saturday of each month from 9-11am
Click here to register

SOUTH LA WETLANDS - 5413 South Avalon Blvd.
4th Saturday of each month from 9-11am
Click here to register