Posted on 03/16/2022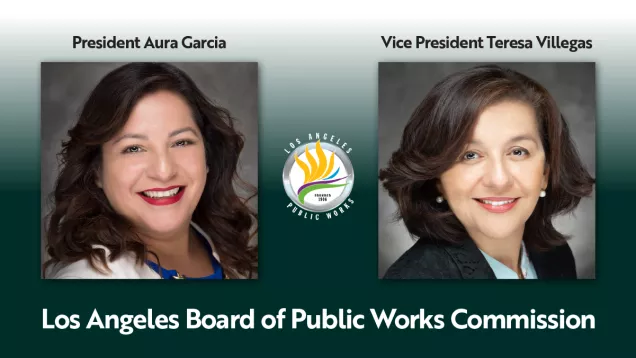 LOS ANGELES, CA (March 16, 2022) – Vice president Aura Garcia today was elected by her colleagues as president of the Board of Public Works Commission (Board). In a related move, Teresa Villegas was elected as vice president and will succeed Garcia in this role.
In addition, today marked the first meeting of newly confirmed Commissioner Vahid Khorsand and the last for Commissioner Jessica Caloza who has announced her resignation and will step down in the next coming weeks.
"It's an honor and privilege to be elected president by my colleagues on the Board," said Garcia. "Alongside my fellow Commissioners, we have accomplished so much in our efforts to provide critical infrastructure services and programs. There is still much work ahead and I look forward to building on our momentum to do even more to improve the lives of all Angelenos."
Garcia was appointed to the Board by Mayor Eric Garcetti and confirmed by the Los Angeles City Council in February 2018. She has served as vice president since October 2019. In her new role as president, Garcia will set the Board's agenda, serve on the Mayor's Cabinet, and make final policy decisions on budget proposals.
As board liaison to the Bureau of Street Lighting, Garcia is actively engaged in efforts to advance smart city initiatives, bridge the digital divide, and find solutions to Citywide copper wire and power theft issues. She also oversees the Office of Community Beautification and has led efforts to revitalize the Keep Los Angeles Beautiful program by bringing back the community beautification grant program, hosting an annual beautification conference, and organizing more community cleanups. She has also served on the Ad Hoc Small Business Advisory Committee as Co-Chair. 
Villegas was appointed to the Board in September 2019. She currently serves as the Board liaison to StreetsLA (Bureau of Street Services) and the City Forest Officer. Villegas oversees many environmental justice initiatives such as increasing tree canopy in areas with the least shade, which tend to be underserved communities. She has also been engaged in efforts to use infrastructure to help combat climate change through programs like StreetsLA's cool pavement technology. She chairs the Food Recovery Task Force, the Risk Management Task Force, the Upper LA River Watershed Stakeholder Committee and co-chaired the Hyperion Ad Hoc Advisory Committee.
Caloza is the first Filipina American appointed to the Board and has served since March 2019. During her tenure, she oversaw some of the City's most critical infrastructure projects as the board liaison to the Bureau of Engineering. She organized the City's inaugural Filipino American History Month Lighting Ceremony and promoted the contributions of Asian and Filipino Americans to Los Angeles; advocated for small and diverse businesses through the Accessing L.A. and Community-Level Contracting programs; and brought attention to Historic Filipinotown through initiatives like the Eastern Gateway project, set to be unveiled this May, in collaboration with Councilmember Mitch O'Farrell and countless community leaders.
Said Garcia about Caloza, "I have consistently been impressed by the enthusiasm and fierce commitment of Jessica Caloza. She is a dedicated public servant and an active advocate for all Angelenos, but especially for providing access to government and services to those who need it most. I will miss Jessica in our work here but look forward to all the positive change she will continue to bring to Los Angeles and beyond."
"It's been an honor of a lifetime to serve on the Board of Public Works. I'm so grateful to Mayor Garcetti for this incredible opportunity to serve," said Caloza. "I'm especially thankful to the dedicated women and men I've worked alongside the last six years who pour their heart and soul into making the city a better place and ensuring underserved communities are at the forefront."
These changes are effective immediately. The Board of Public Works governs the Department of Public Works and is comprised of a five-member full-time executive team that is committed to delivering projects and programs that enhance the quality of life, economic growth, public health and the environment for all Angelenos.
###