Posted on 05/27/2022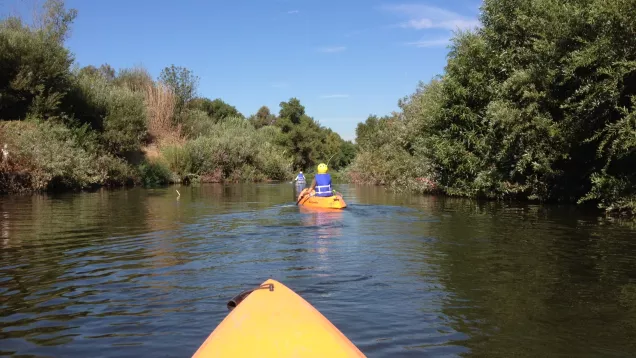 LOS ANGELES, CA (May 27, 2022) - The Los Angeles River Elysian Valley and Sepulveda Basin recreation zones will open on Memorial Day for the 2022 summer recreation season season, welcoming all Angelenos back to one of the City's most popular destinations to engage in outdoor activities with friends and family. 
From May 30 to September 30, the City will open its Elysian Valley and Sepulveda Basin recreational zones to the public for kayaking, bird watching, walking and bike riding. To ensure the health and safety of all Angelenos, all visitors must follow Los Angeles County COVID-19 guidelines and precautions. Under the supervision of the Mountains Recreation & Conservation Authority (MRCA), a limited number of private groups will offer visitors guided tours and kayak rentals at these locations. 
"The opening of the Sepulveda Basin and L.A. River recreational spaces always marks the start of the summer – giving Angelenos and Valley families a safe place to relax and have fun outdoors," said Council President Nury Martinez, who represents the Sepulveda Basin. "I'm glad we are able to welcome people back to this incredible natural amenity again this year."
"The Los Angeles River Recreation Zones are as synonymous with a Los Angeles summer as going to the beach or catching a classic movie at Cinespia with friends and family," said Los Angeles City Councilmember Mitch O'Farrell, who represents Elysian Valley. "Count me among the thousands of Angelenos who will venture onto the River this season to enjoy this majestic public space, including the new Taylor Yard Pedestrian and Bicycle Bridge, which opened earlier this year." 
By opening the Elysian Valley and Sepulveda Basin recreation zones, the City continues to promote the L.A. River as a premier community destination – providing safe and equitable public access and recreational opportunities that aims to bring all members of the Los Angeles community together.
"As the L.A. River continues to be a treasured natural resource and recreational asset to the City, we will do our part to keep the River clean and healthy for all Angelenos in years to come," said L.A. Sanitation and Environment (LASAN) Director and General Manager Barbara Romero.
This year, visitors will also have the opportunity to visit the newly constructed Taylor Yard Pedestrian and Bicycle Bridge, which opened in March. Championed by Councilmember O'Farrell and the local community, the Taylor Yard Bridge is a roughly 400-foot-long structure that connects cyclists and pedestrians to the L.A. River from Cypress Park to Elysian Valley.
As a reminder, swimming is not allowed in the L.A. River. Before every visit, visitors are encouraged to check the L.A. River water quality and conditions at the LASAN website: https://lacitysan.org/waterquality. LASAN has also installed solar-powered water quality beacons, essentially stoplights, that indicate the water quality conditions at the kayaking input sites: green for safe, yellow safe, but take precautions, and red for do not kayak. 
"We are looking forward to operating the ninth season of the LA River Recreation Zone," said Mountains Recreation and Conservation Authority Chief Ranger, Fernando Gomez. "We want to remind everyone to take safety precautions when going out on the river. You must wear a Personal Flotation Device (PFD) and a helmet. Also, use sunscreen and drink plenty of water. You will be in the sun."
A Public Service Announcement, produced by Councilmember O'Farrell's office in partnership with MRCA, is available on the MRCA's YouTube channel.