Posted on 09/28/2021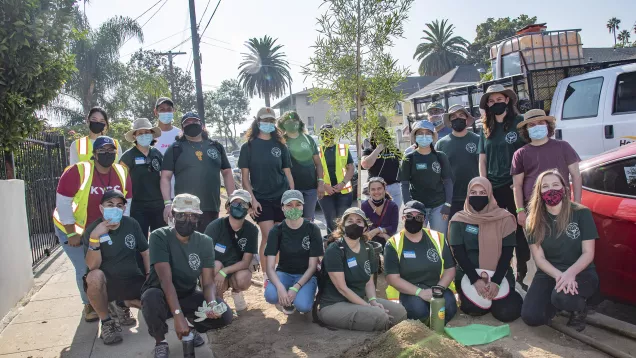 LOS ANGELES, CA (September 28, 2021) — The City of Los Angeles' new Tree Ambassador pilot program recently launched with the goal of creating trained, invested and paid community leaders to raise awareness in their communities about the benefits of trees, and ultimately, get more trees planted in neighborhoods where they are needed most. This program is focused particularly in low canopy communities and neighborhoods vulnerable to urban heat.

"It's this kind of hands-on experience that will prepare the Ambassadors not only to engage with their communities on the importance of trees, but also for their future in urban forestry and other green professions," said Public Works Commissioner Teresa Villegas. "It is so exciting to see this program up and running with the Ambassadors-in-training getting their hands into the dirt."

The program reached a milestone on Saturday, as Ambassadors received invaluable hands-on training planting trees at a community tree planting and adoption event in Boyle Heights, organized by City Plants, which was also being celebrated as part of Hispanic Heritage Month. Major funding for the program has been provided by Los Angeles Department of Water and Power and CalFire; project partners include the Los Angeles City Board of Public Works, Koreatown Youth and Community Center (KYCC), Climate Resolve and Tree People.

"We're proud to collaborate with City Plants and our other City partners on this new Tree Ambassadors initiative," said Nancy Sutley, LADWP's Senior Assistant General Manager of External and Regulatory Affairs and Chief Sustainability Officer. "At LADWP, we know how important urban forestry is for our local communities. Shade trees help cool our city, reduce the need to run air conditioners for long periods of time, which is critically important especially during times of peak energy demand, and provide bill savings to our customers."

The new Tree Ambassador Pilot program kicked off in August with a ten point training program that includes learning about community organizing, the "right tree, right place, right reason" theory; tree planting and young tree care; trees, urban heat and climate change; barriers to urban greening; native Los Angeles; mature tree care; and careers in urban forestry. 

"We've had a longstanding vision for a robust, paid outreach and training program that would tap into existing neighborhood networks while investing in local residents," said Rachel Malarich, Los Angeles City Forest Officer. "We know that local residents and leaders can engage in conversations with a different audience, so we are excited to invest in them and broaden the reach of our urban forestry programs."

Recruitment was done by advertising the positions on social media, community meetings, online job boards, neighborhood councils, and involved non-profit partners. Most of the ambassadors came from existing funded urban forestry projects in their neighborhoods, so they already have a stake in the well-being of the communities in which they will be working. 

Rachel O'Leary, City Plants Program Director, added, "The Tree Ambassador Program is rooted in a simple idea: Any attempt to close the urban forest equity gap in LA must center the voices of people most impacted by systemic inequity, and community-led urban forestry must celebrate — and directly compensate — local-level, community-centered knowledge. We're so grateful to LADWP, the project partners, and the Tree Ambassadors for their leadership and passion."
The training program will wrap up in April 2022. 

View a slide presentation on the Tree Ambassador program here. 
View the new web page with Tree Ambassador resources on the City Plants website at www.cityplants.org/tree-ambassador/. 
View a half hour Lunch and Learn seminar on the Tree Ambassador Program hosted by Los Angeles City Forest Officer Rachel Malarich here.