Posted on 05/17/2022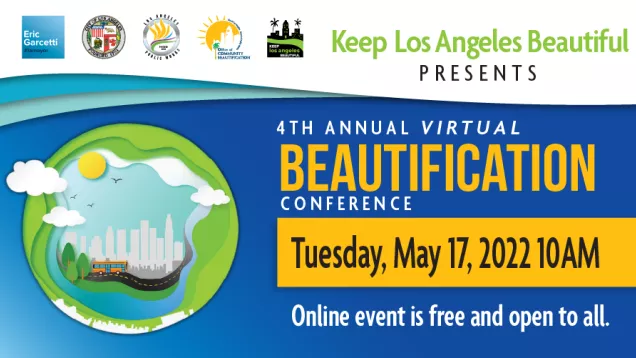 ***EVENT POSTPONED*** Update on a new conference date coming soon.
WHAT:            
The City of Los Angeles Board of Public Works, Office of Community Beautification (OCB) and Keep Los Angeles Beautiful (KLAB) will host the 4th Annual Virtual Beautification Conference. This virtual conference will convene a wide range of stakeholders with a shared vision of a cleaner, greener and more sustainable Los Angeles. All are invited to gather online to learn more about local programs and resources, sustainability initiatives, and beautification projects. Panel discussions will focus on key topics including recycling and reuse, water conservation, and community beautification projects. The online event is free and open to all.
Must register to receive event link and qualify for raffle giveaways. Early registration is encouraged.
WHO:              
LA Controller Ron Galperin
Board of Public Works President Aura Garcia
Jason Smith, Regional Director - West, Affiliate Operations, Keep America Beautiful
David Scott, Ph.D., Senior Director of Research, Keep America Beautiful
Paul Racs, Director, Office of Community Beautification
Various City Departments, community stakeholders and nonprofit representatives
WHEN:            
TBD