Posted on 08/04/2021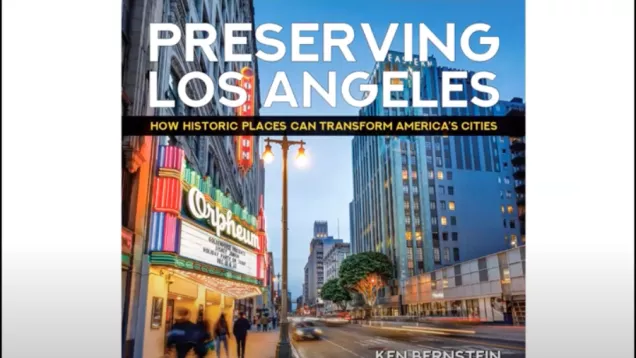 At this session of Lunch and Learn, I welcomed Ken Bernstein from the LA City Planning Department, author of Preserving Los Angeles, to talk about the City's Historic Preservation Ordinance and how it can be applied to trees. Mr. Bernstein explained how Los Angeles passed an ordinance to protect historic cultural monuments in 1962, which made the City an early adopter. As written the ordinance includes trees, which can be designated historic cultural monuments. Anyone can apply and make the case for the role a tree or trees has played in local history and the development of community identity.  It's an opportunity for the community to tell the story of a local tree.
He presented some examples of designated trees in Los Angeles including the Coral Trees on San Vicente Blvd. in Brentwood, the cedar trees on White Oak Avenue in Granada Hills, the Chase Knolls Garden Apartments in Sherman Oaks, and the Tuna Canyon Detention Station's Tujunga Oak Grove, the last remnant of a World War II era Japanese detention camp. 
This session was so popular, there were many questions asked in the chat box that Ken ran out time to answer. But great news! Mr. Bernstein was kind enough to take the time to write up responses to the unanswered questions, which are shown below this YouTube link to the entire session. Some more info. about Mr. Bernstein and helpful links are at the end of this article. 
1. I missed the beginning of the presentation — did Ken say how many trees have HCM status at this point?  By my count, there are 17 trees or groupings of trees that have HCM status today.
2.  Can and have trees been moved as are some of our historic homes, and is there a 'tree museum' as we have for where we have accumulated historic homes? I understand that the best way to preserve historic properties is not to move them.      I'm not aware of any trees with historic designation that have been moved, in the way that we have Heritage Square in Cypress Park as a site for relocated historic homes. 
3. 

What is the practice when a landmarked (HCM) tree dies?
When an HCM designation is for a grouping of trees, such as for the coral trees on San Vicente Blvd. or the palms in the median of Highland Avenue near Hancock Park, the practice is typically to replace a dead or removed tree with another tree of the same species. One-of-a-kind trees, such as the former giant Lang Oak in Encino that was toppled in a storm, cannot be replaced; however, the HCM marker remains where it had been
4. What percentage of nominations of trees for HCM status are successful?
It's hard to say, since tree nominations are infrequent. There have been some trees that haven't been approved for designation, but probably at least 75% have been approved in the past.
5. How many nominations do you receive annually, on average?
We average about 30-40 nominations for HCMs annually; however, in most years we would receive only one (or zero) that seeks to nominate trees.
6. Is there size or age criteria when the panel decides if a tree is historically significant or not?
No, the criteria do not include a minimum age, for either a tree or a building. The criteria relate to historic significance -- whether the tree(s) reflect significant historic events, trends or movements in social and cultural history, the development of the city or the local community, or the lives of "historic personages."
7. Are HCM-designated trees identified on site with a descriptive sign? I drive past one HCM set of trees regularly and have never noticed an identifying sign. If no signs are posted, wouldn't this be a good idea, both to help protect the trees from interference (e.g., illegal cutting), advertise the ability to nominate trees for HCM status, and promote the value of trees?
The Office of Historic Resources oversees a bronze plaque program for Historic-Cultural Monuments, which may be installed at the request of (and expense of) a property owner. However, these plaques are more frequently installed at buildings vs. trees. More frequently, an identifying sign in the public right of way is installed to identify the trees as Monuments. These may be manufactured and installed by the LA Department of Transportation (LADOT), at the request of the City Councilmember of the district. Several groupings of trees do have these LADOT signs installed. So if you see an HCM tree or trees without signage, it would be a good idea to ask the City Council office to pursue an identifying sign. 
8. Can we apply for any tree on public property like the ancient trees in Exposition Park? Or, does the park management itself have to apply?
Any individual or organization may file an HCM application for a building or a tree -- it does not need to come from, or be supported by, a property owner. However, the input of a property owner (including the input of City departments for public property) is taken very seriously by the Cultural Heritage Commission and the City Council, so it would be advisable to seek the support of affected owners or agencies in advance. Exposition Park is more complicated because it is State of California property (with a joint powers management structure), and City historic designation cannot place legal restrictions on properties owned by federal, state, or county government.
9. How do you balance that the designated historic trees might not need pruning, and pruning might hurt the trees with survival, with the need of Bureau of Street Services (new name now) to keep streets safe and sidewalks safe, or buildings safe? In other words, does your planning office coordinate closely with the Bureau of Street Services?
Street Services and Planning do coordinate on issues related to maintenance of historic trees. It's true that there are significant issues to consider related to pruning, which warrant even greater consultation and coordination between the agencies, while also involving affected community stakeholders.
10. And is there a process for a citizen to petition to make tree(s) historic, or can only Planning submit a tree for listing as historic? And can a private property owner ask to have a tree designated as historic on their private property if associated with an important person in our history?
Again, any 
individual or organization may file an HCM application for a building or a tree. And, yes, a private owner may seek to designate a tree on their own property if they feel it has historic significance
11. What city help is available for trees with historical status that are needing help financially due to upkeep like the coral trees? 
Our community has spent over $100,000 this year doing so.
There is not currently any specific CIty funding source available for maintenance of historic trees. Perhaps there could be a future public-private partnership to identify potential philanthropic or grant funding to support such work.
12. If the survey in Historic Resources of a contributing property failed to mention the significant trees can they later be added to the survey?
Yes, our office would be open to receiving supplemental information, with appropriate documentation, that would allow for adding information on significant trees to a survey finding.
13. If a community believes that a tree that is protected ( or in the process of being considered for designation)is being threatened /or illegally trimmed (or hacked) what should a citizen do to halt it (especially if the act is taking place during the weekend when no inspectors/staff are available)?
If the tree affected already has historic designation or is formally under consideration for HCM status, you may start by notifying our Office of Historic Resources staff. We can follow up with other appropriate agencies or, if necessary, the Office of the City Attorney. This can be more challenging than stopping work on a building, since no building permits are issued by the Department of Building and Safety for trees. However, our office would coordinate with Bureau of Street Services if the affected trees are in the public right-of-way.