Posted on 10/13/2021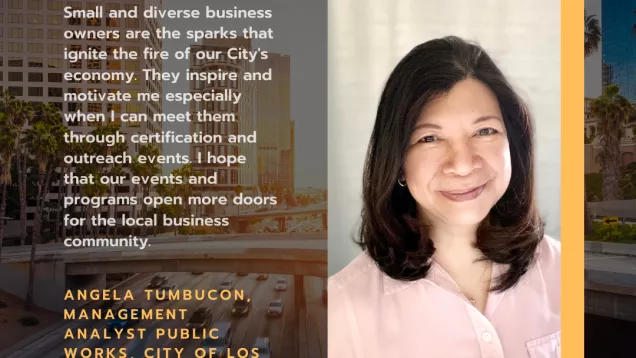 Meet Angela. Angela has served the City of Los Angeles for five years and is currently a Management Analyst for the Bureau of Contract Administration's (BCA) Certification, Outreach, Regulations and Enforcement section. In 2016, she worked in the Labor Compliance section overseeing the Project Labor Agreement of various Public Works projects. In 2017, Angela joined the Certification section which provides certification and verification services to all City Departments to increase the pool of small and diverse businesses that contract with the City.
Angela plays a vital role as the lead organizer of the City's flagship networking event series, Accessing L.A., held three times a year. These events provide a platform for businesses to create connections and learn about City resources that promote economic development and contracting opportunities to businesses of all types and sizes.
Additionally, Angela is part of the Small Business Academy team which coordinates with the other City Departments to provide key insights and resources that help small businesses expand their future contracting opportunities.
She finds fulfillment in assisting small and diverse businesses through certification and outreach events. Angela's enthusiasm and willingness to serve make her an asset to the City of Los Angeles.