Posted on 11/22/2022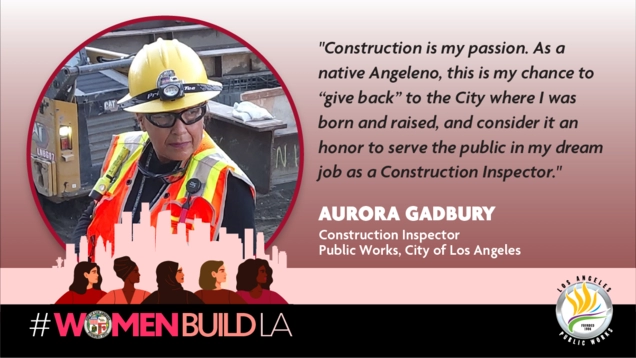 Meet Aurora. Aurora is a Construction Inspector with the City of Los Angeles Bureau of Contract Administration. Currently assigned to Metro's Westside Purple Line Extension, Aurora inspects civil and sewer construction at the La Brea Avenue and Fairfax Avenue Stations on Wilshire Blvd.
During her 14-year career with the City of Los Angeles, she has worked for LADWP Water Distribution Engineering - Western District, the Bureau of Engineering U-Permits Division - Valley District, Wastewater Conveyance Engineering Division, and the Bureau of Street Services Resurfacing Division. As a Civil Engineering Drafting Technician with the Bureau of Engineering, Aurora assisted District Engineer Mati Laan and Assistant District Engineer Bert Moklebust with the development of Standard Plan S-477. 
Aurora is passionate about construction. She enjoys the opportunity to learn about technological innovations, which are constantly advancing the construction process. She values the talented individuals she is fortunate to work with. Aurora credits her combined Public Works construction experience in the private sector and her career in the City for providing her with the knowledge, ability, resources, and relationships needed to effectively perform the duties of Construction Inspector. However large or small the project may be, she strives to protect public interest by building collaborative working relationships with those involved in the construction process.