Posted on 04/20/2022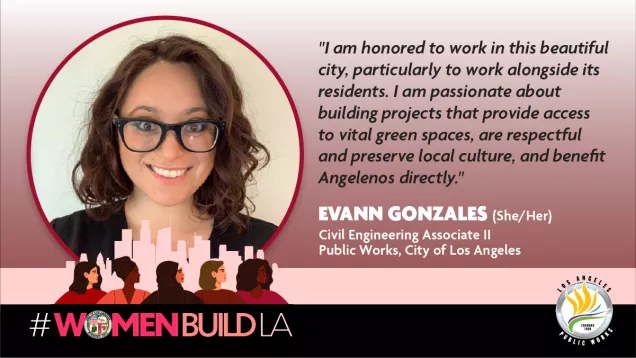 Meet Evann (she/her). She is a Civil Engineering Associate with the City of Los Angeles Bureau of Engineering. She attended Harvey Mudd College and has been with Engineering for 6 years.
Through Engineering's rotation program, Evann had the pleasure to work in the Project Award and Control Division, Wastewater Conveyance Engineering Division, and Construction Management Division. During her rotation, she also helped develop Engineering's 2019 Strategic Plan.
Currently, she is a project manager in the Clean Water Division's Los Angeles River team, which manages riverside recreation, habitat restoration, and water quality projects. One such project is the Taylor Yard G2 River Park Project, a nature-focused open space. Evann has overseen the update of the Taylor Yard G2 Implementation Feasibility Report, the result of years of coordination, community outreach, and investigative studies. Engineering will begin development of the G2 parcel with the Taylor Yard Paseo del Rio Project and Proposition O Water Quality Project, which Evann is helping to manage.
Evann is driven to provide vital services and open space to all Angelenos, particularly underserved communities impacted by discrimination and climate change, and is excited to continue the work for years to come.