Posted on 06/22/2022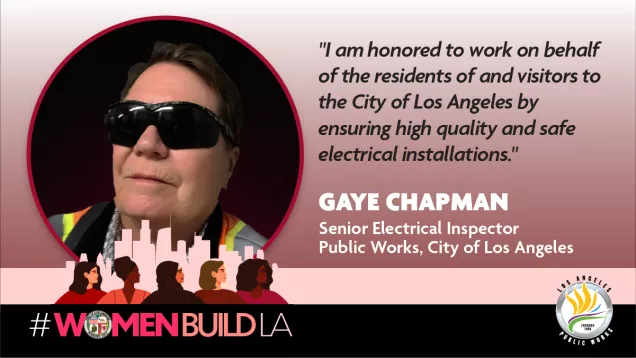 Meet Gaye. She is a Senior Electrical Inspector for the City of Los Angeles in the Department of Public Works Bureau of Contract Administration. She has an 18-year career with the City as an electrical inspector for both contract and code compliance on major structures, and municipal water reclamation and conveyance projects.

Gaye inspects power systems and equipment on industrial projects: low and medium-voltage distribution equipment, instruments, control panels, generators, motors, and pumps. She also enforces contract documents, plans, specifications, and safety. Her work ensures that Angelenos get high quality and safe electrical installations.

Gaye also approves and prepares progress payments for contractors doing work for the City of Los Angeles. She reviews submittals for electrical equipment and installations, performs shop inspections of electrical equipment, and represents the BCA in project meetings. Gaye is a past president of the Southern California Chapter of the International Association of Electrical Inspectors.

In addition to her work for the City, Gaye owns the website AfterEllen.com. AfterEllen is the largest and most comprehensive website that covers lesbian/bi pop culture. Her website brings a fun, feminist perspective on film, television, music, books, fashion, and its own take on the current political climate as it affects their community.