Posted on 02/21/2023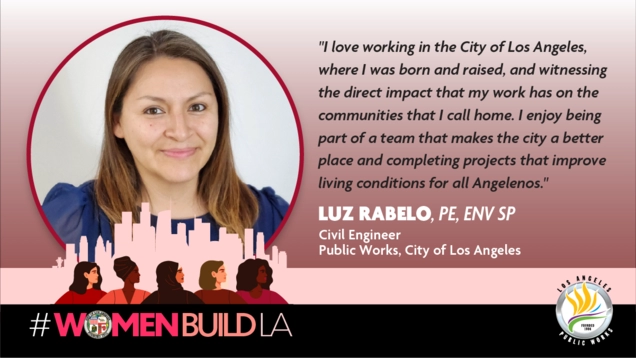 Meet Luz. She is a Civil Engineer with the City of Los Angeles Bureau of Engineering.  Prior to joining the City in 2016, she worked in the private sector as an environmental consultant and project manager at a state agency overseeing multiple environmental remediation projects. Since joining the Bureau of Engineering, she has had the opportunity to serve the public in multiple roles, including in development services by assisting the public with permitting of projects in the public right of way, providing technical reviews in structural design projects and bridge inspections, and serving as the construction manager of multiple A Bridge Home projects and Tiny Home Village projects that provided much needed housing to unhoused Angelenos.
She currently leads the LA River Group in the Clean Water Division and is the project manager for the Paseo del Rio at Taylor Yard project, which will transform the former rail yard into a nature focused open space benefiting the surrounding communities, providing much needed green space and improving access to the river.
Luz is passionate about engineering, she enjoys mentoring young and aspiring engineers and advocating for the field of engineering. She actively participates in the Bureau of Engineering's mentorship program and provides continuous outreach at her alma mater Cal State LA.