Posted on 01/11/2022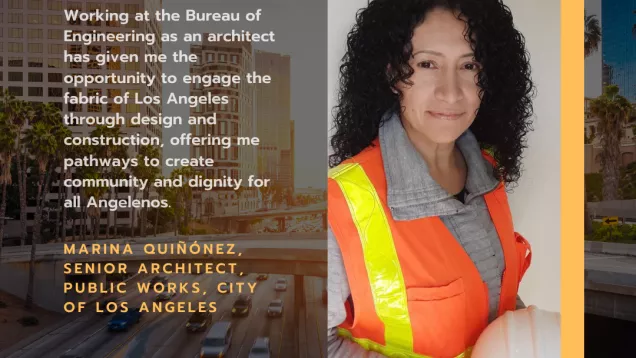 Meet Marina. She is a Senior Architect with the City of Los Angeles Bureau of Engineering who has worked for the City of Los Angeles for more than 15 years. She currently leads Engineering's effort to design and construct housing for unhoused Angelenos; the City has delivered 27 projects in the last three years with a construction cost of approximately $150 million dollars. 
Marina has been an integral part in the development of Phase 1 'A Bridge Home' and Phase 2 'Tiny Home Villages'. Her team has established an approach that focuses on the importance of designing for dignity and community, while also developing procedures and design standards to complete projects within an expedited schedule. She has also been involved in the design and renovation of existing buildings and various recreation centers, most notably, as the lead architect for the Woodland Hills Recreation Center, which achieved LEED Gold certification.
Marina has embraced the multifaceted approaches needed in our diverse City throughout her professional career. She has forged relationships in various City departments, Counties, and State agencies, while concurrently building a great team of partners and co-workers.
Marina's favorite part of working at the Bureau of Engineering is the authentic exchange of ideas and knowledge with other professional architects and engineers engaged in design and construction.