Posted on 02/23/2022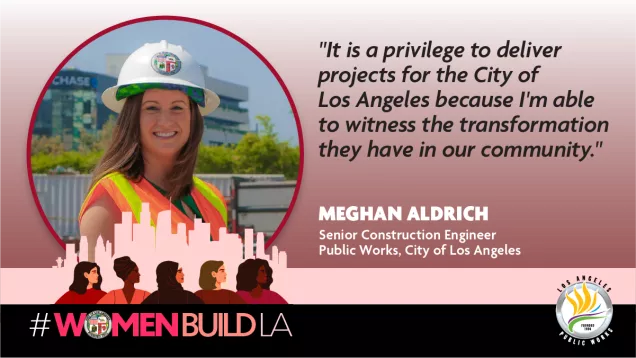 Meet Meghan. She is a Senior Construction Engineer with the City of Los Angeles Bureau of Engineering and has served the City for 14 years. At the Bureau of Engineering, Meghan leads a team of 11 Civil Engineers delivering $140 million for Bond Programs and Municipal Facilities construction projects for the Construction Management Division.
Meghan has worked on multiple high-profile construction projects in Los Angeles including the $20 million Rainforest of the America's Exhibit at the LA Zoo, the $17 million LAPD Parker Center Demolition and many other Proposition K, Recreation and Parks and Municipal Facilities projects.
Additionally, Meghan is passionate about the future of the Bureau of Engineering and its employees, providing outreach through mentorship, college recruitment and strategic planning. She enjoys fostering growth as a leader and taking on new challenges to provide the City of Los Angeles with innovative and sustainable public spaces.