Posted on 05/19/2022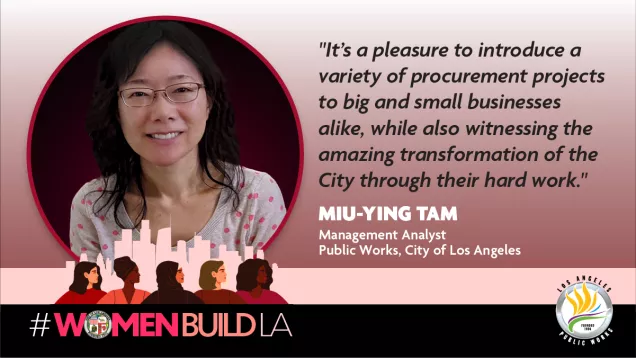 Meet Miu-Ying. She is a Management Analyst in the Project Award and Control Division with the City of Los Angeles Bureau of Engineering. She is a graduate of Cal State Northridge with a degree in Business Law who started out working in the entertainment industry. Miu-Ying joined the City of Los Angeles and soon came to realize the great sense of fulfillment it gave her, so she made it her career.   
Miu-Ying's work centers on the maintenance, review, and compliance of documents such as Request for Qualifications/Proposals, Board Reports, Contracts, and Amendments for the Bureau. She also oversees Task Order Solicitations and the posting of consultant opportunities onto the Regional Alliance Marketplace for Procurement (RAMP). She also gets called upon by contract and project managers to consult on processes and procedures to ensure they meet City standards.
By ensuring the contracting process is clear, compliant, and accurate, Miu-Ying is committed to making sure new project opportunities are equitable and available for all eligible businesses.