Posted on 01/30/2023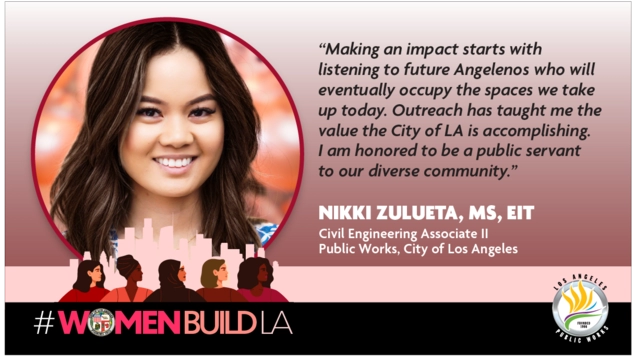 Meet Nikki. She is a native Angeleno and a CSUN and UCLA Alumni. She is a Civil Engineering Associate for the City of Los Angeles Bureau of Engineering (BOE) in the Construction Management Division. She joined the Bureau in 2017 as a Student Engineer with the Geotechnical Engineering Division (GED). Her work included geotechnical responsibilities with projects such as the Vision Theatre Performing Arts Center, Michelle and Barack Obama Sports Complex, and the Tiny Home Village Projects. After completing her design roles at GED, she is now the lead construction manager for a $12M LA Sanitation & Environment Maintenance Yard in North Hollywood. This project will serve as a maintenance yard for LASAN staff which includes office spaces, locker rooms, restrooms, storage, and a common space.
Nikki has also been involved with the American Society of Civil Engineers (ASCE), a professional non-profit organization. Her involvement began in 2015 working with K-12 Students and competing in technical competitions. Since then, she has focused her efforts with the ASCE Los Angeles Younger Member Forum, where she's taken on roles as K-12 Outreach Chair, Inclusion, Belonging, Diversity Chair, and Engineers Week Chair. She is passionate about outreach and building a connection with underrepresented youth in Los Angeles.
Nikki is grateful for the opportunities and support BOE has provided and is excited to continue to impact the lives of Angelenos.