Posted on 08/26/2022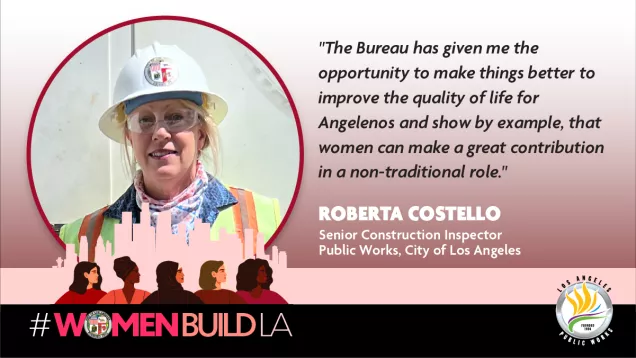 Meet Roberta. She is a Senior Construction Inspector for the Department of Public Works Bureau of Contract Administration. Roberta is a Los Angeles native with more than 32 years of service as a City of Los Angeles Inspector.
In 1989, Roberta began her career as an Assistant Inspector with the Department of Building & Safety. She transferred to Contract Administration in 1993 to continue growing in her career. She was promoted to Construction Inspector in 1995 and to Senior Construction Inspector in 2002. Roberta has worked on many major projects including as Lead Inspector on the Metro Red Line Lankershim Station and LADWP Water Trunkline projects as well as both Ontario and Los Angeles International Airport expansions. She's also worked in EQ sewer repair, materials control, ATSAC, the Orange Line Busway, Sidewalk Repair Program, and A, S, U, E, and B permits. Roberta is currently assigned to the Valley Construction Inspection Division.
Roberta enjoys the challenging nature of her job and takes pride in doing a good job, getting compliance, and helping constituents and her coworkers. As the point of contact to engineers, contractors and inspectors, she is known to be professional, resourceful, efficient, and willing to share knowledge from her many years of experience to help others resolve their challenges and achieve their goals. Roberta also promotes the interests of the City by serving as a mentor to new Inspectors and recruiting qualified candidates in this role. She also serves her fellow LA City Inspectors as their MCIA Union Representative, a position she has held since 2007.