Posted on 12/08/2021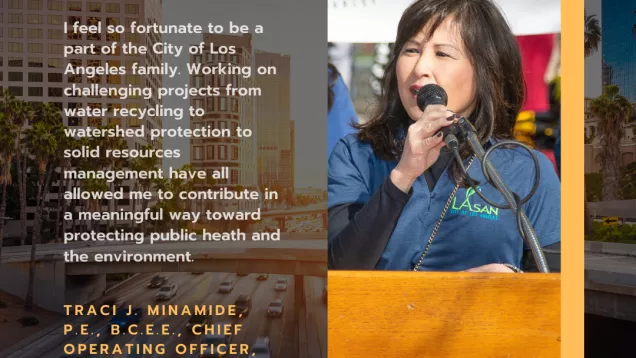 Meet Traci. Traci serves as Chief Operating Officer for City of Los Angeles Sanitation and Environment, a department of over 3,500 employees with an annual revenue of over $1 billion.  She has been with the City for over 30 years serving in many capacities, including environmental regulations, biosolids, water reclamation, watershed protection, and solid resources.
Traci holds a Bachelor of Science degree in Civil Engineering from California State Polytechnic University at Pomona, a Master of Science degree in Environmental Engineering from Loyola Marymount University, and certification in Executive Management for State and Local Government from Harvard University. She is also a licensed professional Civil Engineer in the State of California and a Board Certified Environmental Engineer through the American Academy of Environmental Engineers and Scientists. She is past President of the California Association of Sanitation Agencies (CASA) currently serving on its Board of Directors, and is also a board member for the Southern California Alliance of POTWs. Traci also served as a member of the State of California's Advisory Panel on Direct Potable Reuse.