Posted on 09/20/2022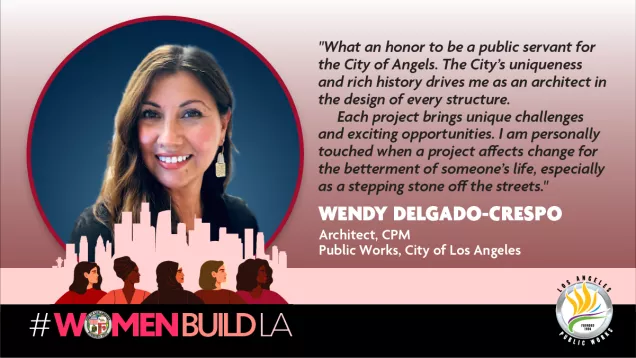 Meet Wendy. She began her career with the City of Los Angeles in the Engineering Division at the Harbor Department. In 2018, she promoted to the Homeless Facilities Division of the Bureau of Engineering (BOE) and is currently in the Architectural Division. In her role, she is committed to serving the public and building close relationships with City family and the community.
At the Harbor Department, she was mentored to complete Capital and Tenant Improvement Projects. Wendy was the lead designer and project manager while overseeing construction of three of eleven structures completed in 2016 for the TRAPAC Container Terminal Building Improvements – a significant building structure contribution to the Port of Los Angeles.
Upon joining BOE, she dove into the Homeless Facilities Division working together with others as designer and project manager to fast-track the design and construction of multiple homeless facilities. This included the first of its kind Chandler Tiny Home Village Project completed in February 2021 which provides security and peace of mind for residents while allowing opportunities towards permanent housing. Wendy currently manages the Silver Lake Reservoir Complex Master Plan – a high-profile project in the process of an Environmental Impact Report. The project proposes to redevelop approximately 116 of 127 acres with a contemporary design and improved visitor experience.
Prior to joining the City, Wendy worked in private firms and served in the Search and Rescue/Law Enforcement Unit of the United States Coast Guard. She continuously aims to improve her design, project management, leadership and team building skills. Wendy also enjoys mentoring young women in her field and serves in children's ministry.