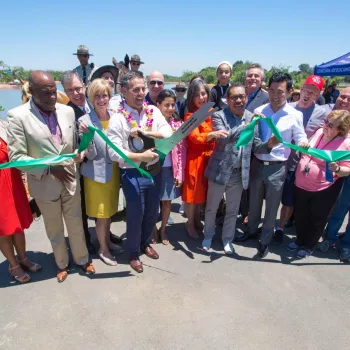 On Saturday, June 17, 2017 more than 4,000 community members and stakeholders joined together with Councilmember Joe Buscaino, LA Sanitation and the Bureau of Engineering to celebrate the grand opening of the Machado Lake Ecosystem Rehabilitation Project at Ken Malloy Harbor Regional Park in CD 15. This project took three years of construction to complete, which required closure of the park.
Councilmember Buscaino praised the work of the City team, led by a partnership between LA Sanitation and the Bureau of Engineering, and acknowledged the importance of this park to his district. Other speakers at the event included City Engineer Gary Lee Moore, Department of Recreation and Parks General Manager Mike Shull, and LA Sanitation Director Enrique Zaldivar. The celebration also featured the swearing-in of Councilmember Joe Buscaino, who was re-elected to a second term. Distinguished guests included Congresswoman Nanette Barragan, County Supervisor Janice Hahn, and Councilmembers Herb Wesson, David Ryu, Marqueece Harris-Dawson, and Monica Rodriguez.
The project consisted of hydraulically dredging approximately 240,000 cubic yards of contaminated sediment from the Machado Lake, and capping the remaining contaminants from migrating into the water. A treatment system to naturally process pollutants through a constructed wetland and a super-oxygenation system was installed to continuously treat the lake water.
The project also included beautiful park upgrades and over 40 acres of riparian habitat restoration. The project site consists of approximately 290 acres, including the 45-acre Machado Lake, within Ken Malloy Harbor Regional Park located in the Harbor City neighborhood of Los Angeles. Machado Lake is a natural low-point, collecting water from a 9,000-acre watershed. It was identified as an impaired water body by the Los Angeles Regional Water Quality Control Board, subjecting the lake to Total Maximum Daily Load (TMDL) requirements for trash, nutrients, and toxics.
Water quality improvements include dredging the lake to remove legacy contaminants contained in the sediment and increasing the overall volume of the lake,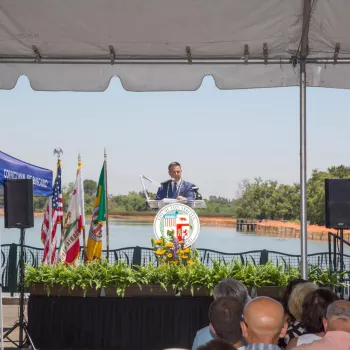 installing five (5) hydrodynamic separators at the major stormwater inlets, and constructing a system to continuously treat pollutants and circulate the water through natural processes. Improvements in the park include the installation of a "smart" irrigation system, piping the park for the use of reclaimed water from Terminal Island Water Reclamation Plant for irrigation.
Recreational features include one mile of refurbished pathways, four observation piers, two observation zones, two pedestrian bridges, interpretive signs, new park fixtures, 622 new park trees, over 50,000 new plants, and a Quimby funded rehabilitation of a youth campsite called Camp Machado.
This $100 million project restores one of the largest remaining coastal wetland ecosystems in Southern California and includes an ongoing five (5)-year post-construction monitoring and maintenance period in the habitat restoration areas. Congratulations to the entire team for the successful delivery of this landmark project!